The most common question is whether I should buy my own house or rent. A journal published by Harvard where it's highlighted that renters roughly spend 30% of their earnings on paying rent bills. Due to few mortgage facilities and easy mortgage loans, interest in purchasing homes is gradually growing. So we will discuss some killer tips so you can know how to get a mortgage loan after beating all the odds.
What Do Lenders of Mortgages Look For?
When you apply for membership for a mortgage, the lender will consider many different aspects to determine your ability to repay the loan. The main factors considered are your income and employment history, credit score, debt-to-income ratio, assets, and the type of property you want to purchase.
Income and Work Experience
Required documents on how to get a mortgage loan.
Getting a mortgage loan requires a fully fleshed underwriting method. Your lender wants to make sure that you will be able to repay the loan because it is likely offering hundreds of thousands of dollars to buy a property.
To complete the lending procedure, you will require the following documents.
Tax records from earlier tax years
Evidence of income Confirmation of employment and work history
documentation of additional assets and liabilities
A list of all your offers to help pays for the house listed.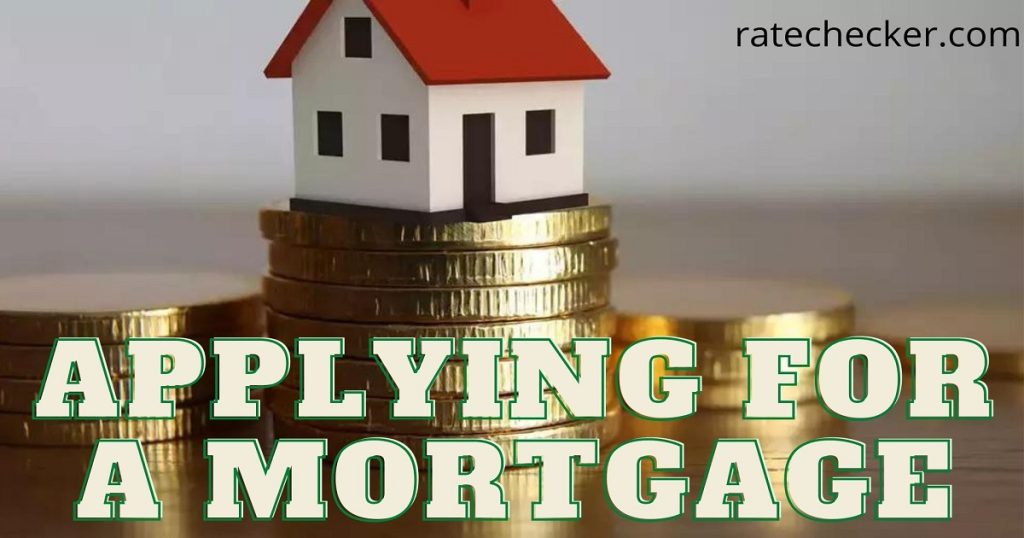 How to apply mortgage loan
Something as simple as missing to list a bank account or old address could cause issues later if you don't know how to apply for a home loan.
Even though many lenders provide digital services to accelerate the mortgage application process, following these six steps will help you avoid delays and save time when you know how to apply mortgage loan.
1. Collect your bank records.
2. Identify requirements for mortgage loans
3. Select the appropriate mortgage type
4. Consider the impact criteria not listed on the mortgage process application
5. Select the appropriate category of mortgage lender
6. Complete a loan application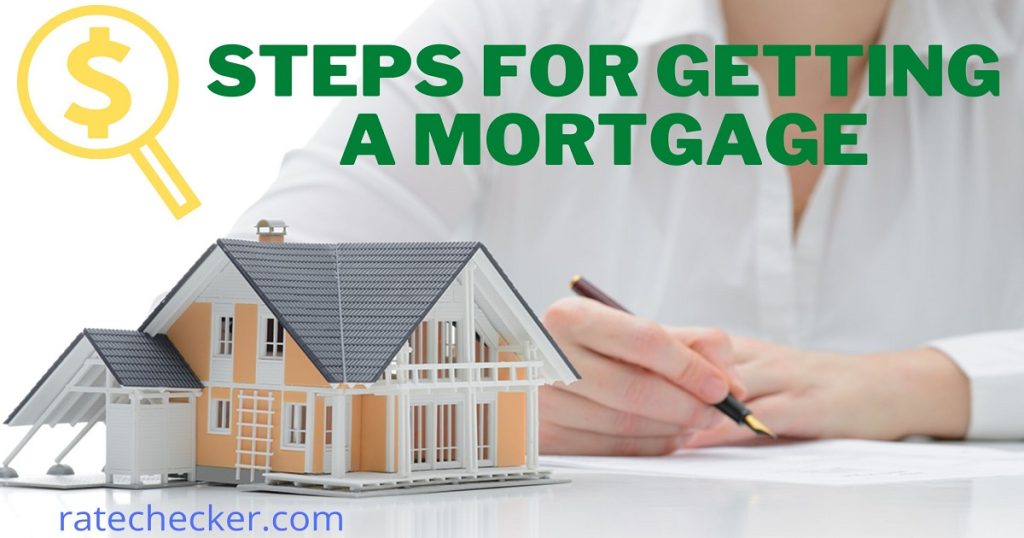 Step for getting a mortgage
Purchasing a home may be challenging and stressful, mainly if it's your first time. But it might be simpler if you give yourself proper time to plan and gather a group of professionals knowing where you want to live.
You can manage the procedure with the assistance of a knowledgeable real estate agent, lender, or mortgage broker.
How to get a mortgage? from application through closing, these are the stages how to get mortgage:
Be aware of your mortgage process affordability.
Get a Mortgage Preapproval
Select the appropriate loan and lender for you and determine whether you require
Determine whether you require private mortgage insurance (PMI)
Application to be Filled Out
Obtaining Underwriting Process Navigation
Organize your finances
Right now, it's more essential than ever to get your finances in order because homeownership is becoming significantly more expensive, especially for first-time buyers. Speak with someone to start the process. a loan officer. Even if you believe owning a home is beyond your price range, you may begin planning for it before your lease is up.
It would be best if you prioritized establishing credit and setting aside money. You will be able to buy a more extensive selection of houses if you have more cash on hand and a higher credit score, so the effort it takes to improve both will be well worth it.
Your chances of approval are higher and more favorable when you have a higher credit score—better your mortgage possibilities. Securing a mortgage despite having terrible credit will come with additional charges that, if possible, you should try to avoid. The higher your mortgage interest rate, the worse your credit score is. Therefore, improving your credit by keeping up with your bill payments and eliminating debt can lower the mortgage process cost.
Be aware of how to get mortgage affordability.
It's fun to think about having the perfect house with all the bells and whistles, but it's much more sensible only to buy what you can afford. Rising rates and more significant monthly payments may have to cut your spending to achieve an affordable home drastically.
Calculating your debt-to-income ratio, according to Bardos, is one method of determining how much you can afford (DTI). To select this, add up all your monthly loan payments and divide the total by your gross monthly income.
The maximum DTI ratio for loans from Fannie Mae and Freddie Mac is 45 percent. You might want to postpone buying a home until you pay off your debt if your ratio is higher than that, advises Bardos.
The lower your DTI ratio, even with the 45 percent threshold, the more money you'll have left over in your budget for non-housing spending.
This is why, if possible, many financial consultants advise keeping the ratio closer to 36%. Financial expert Andrea Woroch from Bakersfield, California, says
According to Bardos, calculating your debt-to-income ratio is one method for determining how much you can afford (DTI). You may select by adding up all your monthly loan payments and dividing the total by your gross monthly income.
It's crucial to consider all your monthly expenses, such as food, healthcare, medical charges, daycare, transportation, vacation, and entertainment costs, as well as other savings objectives, according to Bakersfield, California-based financial consultant Andrea Woroch.
The last thing you can do, according to Woroch, is committed to a mortgage payment that restricts your ability to lead a flexible lifestyle and prevents you from reaching your objectives.
Using the Bankrate calculator, which considers your income, monthly responsibilities, anticipated down payment, and other information, you may figure out what you can afford.
Get a Mortgage Preapproval
Once you've identified a reliable lender, getting preapproved for a mortgage is a good idea. When you receive a preapproval, the lender will examine your financial situation to determine whether you qualify for funding and the maximum amount they are willing to loan you.
The easiest way to ensure you can make an offer as soon as you find the ideal property is to get preapproved before looking for one, advises Griffin. Many vendors won't consider suggestions from people whose credit hasn't been preapproved. Additionally, getting preapproved is crucial because you'll know exactly how much you're able to borrow.
Be aware that preapproval for a mortgage differs from prequalification. Prequalification is less formal and essentially a technique for a lender to gauge interest rates before a mortgage preapproval, which requires significantly more documentation.
Determine whether you require private mortgage insurance (PMI)
It is up to your lender to decide whether to need private mortgage insurance (PMI) on your loan because PMI secures a lender if the borrower fails on their loan. Private mortgage insurance is typically needed by lenders for loans with less than a 20% down payment. In some cases, PMI may be tax deductible.
There are a few exceptions, though. 0%, you don't need PMI on VA loans. Instead of paying PMI on USDA-guaranteed loans, borrowers must pay an annual guarantee fee that accomplishes the same. Instead of PMI, FHA loans need an upfront mortgage insurance payment (UIMP) and an ongoing mortgage insurance charge (MIP).
Select the appropriate loan and lender for you and determine whether you require
It's a good idea to shop around when looking for a mortgage to compare rates and costs from different lenders. The lender is expected to provide you with what is known as a loan calculation within three business days of receiving your mortgage application.
Since all loan estimates include the exact details, analyzing interest rates and the up-front costs you'll spend is simple. Once you have many loan estimates at your fingertips, you may contrast them and utilize the various offers to bargain with the lenders for lower rates or other charges. It is a good idea to browse around and compare rates when shopping for a mortgage.
Additionally, you should know how various mortgage types impact your circumstances. You might need a different down payment depending on your selected mortgage product. Additionally, the repayment terms of various mortgages vary, which affects the amount of your monthly payment and the total amount of interest you will pay for the loan.
Application to be Filled Out
When you've located a house you want to buy, you're prepared to fill out a mortgage application. Most applications today can be made. Obtaining Underwriting Process Navigation The lender will confirm your eligibility as a borrower during the mortgage underwriting procedure, after which you will receive final loan approval.
Before the mortgage is given, your financial standing will be widely analyzed throughout the underwriting process. Your application may also be rejected. You must present recent proof of each to prove your employment, income, assets, and debts. Additionally, you can be asked to provide letters to explain anything from work gaps to gifts you receive to support with the down payment or closing fees.
Regardless of how much you lay down, is the borrower likely to repay this loan? This is the one question that the underwriting procedure is aimed to fix. Lenders are very alert to any modification in your credit profile. Avoid making any significant purchases, canceling or opening new accounts, or making withdrawals or deposits that are abnormally large.
The lender will require a house assessment to be done as part of closing to verify the worth of the property. Additionally, you'll need to arrange lender's title insurance and homeowner's insurance and do a title search on the property. Before you complete the transaction with a final review of the property and sign the papers at the closing appointment, it may take a few weeks to a few months.
On the Home Front
You'll be close to the finish line after your mortgage application has received formal approval. At that time, simply finishing the closing is required. Between states, there are minor variations in the closing process.
According to Ailion, The process usually involves verifying the seller's ownership and authority to transfer title, determining whether any other claims against the property must be satisfied, collecting the buyer's payment, and then giving the seller the remaining funds after deducting and paying all applicable charges.
Typical closing expenses include:
Underwriting or origination fee
costs for services and title insurance
At the closing, you will go over and sign a ton of paperwork, including information on how money is distributed. The closing or settlement agent will also make a public transaction record.
Bottom Line
They advise against putting the horse before the cart. The process of purchasing a property is similar. To finance a home, there are many procedures you must take; therefore, the more you learn about these steps, the more well-informed your choices will be. Nothing prevents you from applying for a mortgage again in the future. And we are looking forward to hearing from you. If you have some different ideas about how to get a mortgage loan, please do comment to us on RateChecker.com.