Good Neighbor Mortgage Loan seems too good to be true. Teachers, military members, firefighters, and EMTs can buy homes with the $100 down payment. Before raising your hopes, know a significant constraint. In your state, there may be few or no available properties. Examine these alternatives and program details if you need help buying a property
Good Neighbor Mortgage Loan for Next Door Houses
The houses for sale are foreclosures financed by FHA mortgages, which are mortgages that the Federal Housing Administration insures. The Department of Housing & Urban Development, or HUD, acquires ownership of the properties following foreclosure and puts them up for sale.
All the properties featured in Good Neighbor Next Door are situated in "revitalization areas" to increase homeownership prospects. HUD collaborates with local governments to identify redevelopment regions in communities with high foreclosure rates, low homeownership rates, and generally low median household incomes.
Although there are many rehabilitation zones, very few houses are available for the Good Neighbor Mortgage Loan.
Who qualifies For a Good Neighbor mortgage loan?
You may be eligible if you are working full-time as a police officer, teacher, firefighter, or EMT for an organization, school, or department that services the neighborhood of your location of residence.
Before bidding on the house in the program, you or your spouse cannot have bought a GNND home or owned any other property during the previous year.
Additional conditions
You should also
State that you intend to continue working as a police officer, teacher, firefighter, or EMT for a year after purchasing the home.
Agree to own & occupy the property as your primary residence for three years and attest each year that you are doing so. Every year, HUD mails the certification, which the homeowner signs and returns.
Purchasing the home in "Good Neighbor Mortgage Loan."
You can search for properties through the GNND program on the HUD Homestore website. To view available homes, click on the Good Neighbor Next Door link in the box to the left of the map. Then, click on a dark-blue state. There are presently no houses available through the program in the light blue conditions. Click on the property case number to view images & details about a particular home, including its square footage, number of rooms, and the year it was built. Homes are put on the market in their existing condition, and the inventory is updated weekly. If you find a house you want to buy, you must act immediately since you only have seven days to place a bid. To accomplish this, you need to work with a real estate agent who is a qualified HUD broker. The broker electronically files a bid for the entire list price, and HUD then applies the discount of 50%. The buyer is chosen by lottery if there are multiple offers.
Good Neighbor Mortgage Loan
As long as you satisfy the lender's standards, you can purchase a Good Neighbor Next Door home with any mortgage. However, having an FHA loan has some unique advantages: It may cover closing costs, and the minimum required down payment is $100. An FHA loan usually requires a 3.5% down payment. Another alternative is to use a renovation loan, such as an FHA 203(k), which incorporates the cost of repairs in the mortgage.
Before looking for any home, getting preapproved for a mortgage is crucial. A mortgage preapproval is an offer from a lender to lend you money ahead and on specific terms. When making an offer, you should have the preapproval handy. A lender's mortgage covers 50% of the home's list price. A second mortgage secured through HUD covers the remaining half of the cost. Buyers are not eligible to make other mortgage payments as long as they follow the program's terms. The buyer is free of the second mortgage after three years of residence.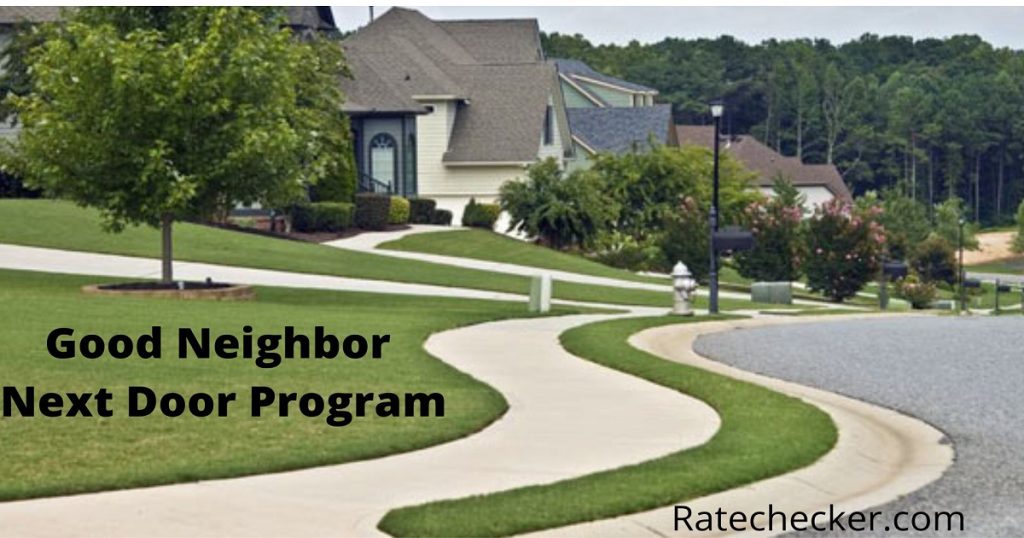 Good Neighbor Mortgage Loan substitutes
There is a small selection of homes available through the GNND program, yet it may be a possibility for certain types of homebuyers in some locations. Here are some alternatives to think about:
Private & nonprofit initiatives – One such is the national Homes for Heroes program, which offers housing help and real estate services to first responders, military personnel, veterans, medical professionals, and educators.
Government loans – For first-time homebuyers, service members, veterans, and others, government loans like the FHA, VA, and USDA offer low or no down payment options.
Help from unions – Some labor organizations, such as the United Federation of Teachers, have alliances that can offer aid to members who want to buy a home.
Assistance for nurses – Nurses and other employees like police officers & firefighters can get aid through initiatives like the Everyday Hero Housing Assistance Fund.