A mortgage loan is a start towards that dream you have always had: a little home, a property you can call your own with your family. Let us help you achieve that dream. At ratechecker.com, we have the best mortgage deals online.
At ratechecker.com, you can get the best mortgage deals at the most reasonable rates. Our network consists of insurance companies, loan providers, investors, and agents who will compete to provide you best rates for a mortgage. We assure you of the lowest rates on our network.
How To Get Best Mortgage Deals Online?
For your convenience, we also provide free mortgage loan quotes online at our website. You can go through the mortgage loan quotes online and their rates and the terms and conditions from one insurance company to another. This means you can compare the different rates, terms, and conditions and decide which one seems the right one for you. Customer satisfaction is our number one priority here at ratechecker.com and always will be.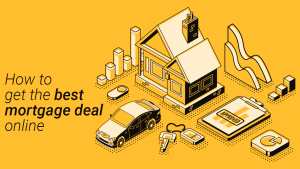 If you would like to work with us, you can fill in a short form at our website ratechecker.com.  This form will consist of some information regarding you so that we can understand your needs better and your situation better. You can save time and money by going through free mortgage loan quotes online instead of personally visiting from loan providing company to another. This will help analyze the exact way of getting better results. We can work on finding the right mortgage deal that suits your needs. Any queries you might have can be shared with us by contacting us directly at our website ratechecker.com.
Next Steps
After finding the best loan offer and rate and applying for it, You're one step closer to getting your next mortgage. Expect the following:
You'll get a mortgage loan estimate three days after applying. This includes estimated closing costs, not final numbers. You can ask your lender for clarification on your loan estimate now.
Your lender's underwriting department reviews your mortgage application. Be ready to provide more documentation or answer questions during this time. If you can, avoid applying for new credit, making a large purchase, or switching jobs.
If your mortgage is approved, you'll close. If your loan is denied, learn why. You can reapply for a mortgage with another lender whenever you want, but you may want to wait to avoid harming your credit.
Near closing, you'll receive a closing disclosure with the finalized loan terms, including your interest rate and closing costs. If you lock in a low rate, make sure this document reflects it. Rate locks only last for a limited time, so work with your lender to avoid closing delays.
Bottom Line
Get mortgage deals online. Make sure you are not paying too much on your mortgage. Find the most affordable rates for mortgage deals at our network. Let us help you get to that dream a little faster. Check out free mortgage quotes at ratechecker.com right now!